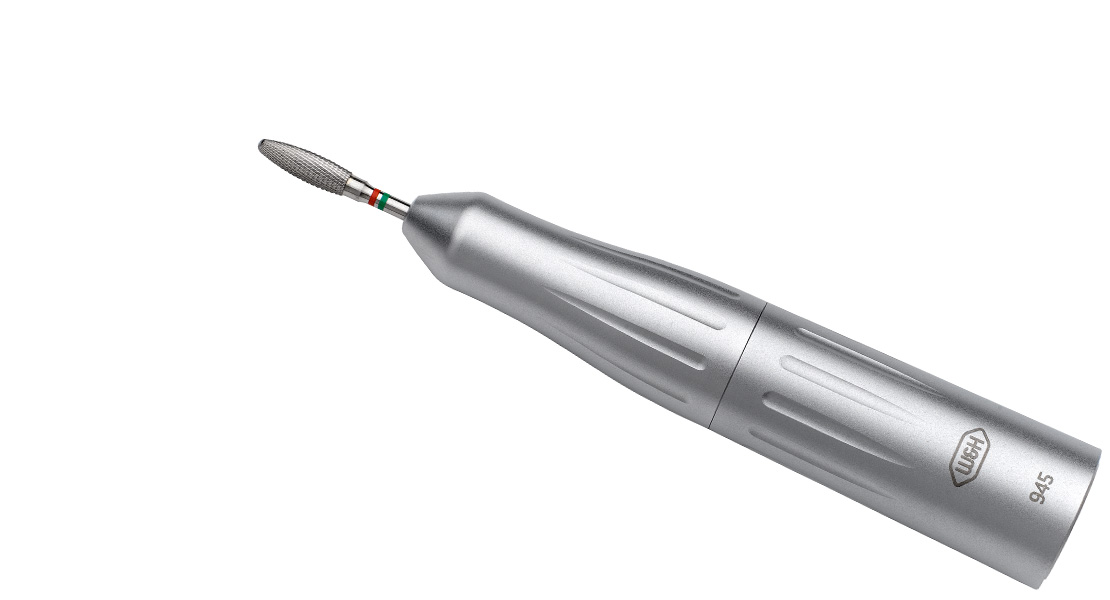 Technical Handpiece 945
Straight & Contra-angle handpieces
The technical handpiece 945 is ideal for the perfect individual adaptation of dental prostheses, braces and also for light technical work on dental materials
With the Technical Handpiece 945 you carry out fast and efficient corrections, fitting and reworking of removable and fixed dentures (before cementing), epitheses, individual impression trays and orthodontic jackscrews directly at the chairside
Your advantages at a glance
Reliable and maintenance-free
Lengthens lifespan by a special seal on the instrument tip
Convenient twist chuck – effortless replacement of handpiece milling
Ergonomic, easy to grip design
Reduced weight and quiet operation – enables work without fatigue
Technical Handpiece 945
Alternatively for electric motor, air motor or laboratory motor »e-Type«.
Technical Handpiece 945 
REF 14124500
Tool Ø 2,35 mm, instrument length up to 45 mm, 40.000 rpm
FAQ on Products
Frequently asked questions on W&H products and helpful descriptions on the topic of hygiene and care.
Videos & Tutorials
Perfecta - laboratory drive unit
The W&H Perfecta control units are intended for rotating or machining use with all material processed in a dental laboratory. The laboratory drive unit Perfecta 900 with the water-cooled high-speed handpiece for efficient and gentle processing of ceramic materials -- particularly zirconium -- is suitable in the dental laboratory. At the same time, it is possible for you to connect the motor handpiece to expand your Perfecta 900 to an all-in-one laboratory unit instrument that can treat all materials optimally. Based on decades of experience W&H has developed with the Perfecta 900 a dental laboratory motor which is available as a table control or knee control unit. In the Perfecta 900 laboratory handpieces the air-jet function is actually integrated, this is a world first for your dental laboratory.